There's no better way to kick off the holiday season than to create an iconic Christmas display topped with a giant Santa Claus figure. Our welcoming Santas are available in a variety of styles and designs, so you're sure to find the perfect addition to any holiday display. There's something magical about the smiling, jolly face of Santa that can put even the Grinch in the holiday spirit.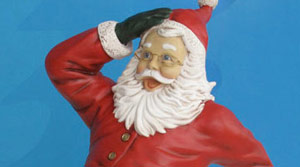 According to tradition, Santa Claus flies around the world every year on the night before Christmas to deliver toys and gifts to the homes of good girls and boys. Santa Claus is known by many names, including Saint Nicholas, Father Christmas, Kris Kringle and Papa Noel. Santa, the symbol of Christmas, is the modern interpretation of Santa Claus, who was originally a Dutch figure that was made popular during the Christianization of Germanic Europe. The popular North American Santa Claus is known by his trademark red suit with white fur trim and black boots.
Christmas Night Inc. is your source for life-size and giant yard Santa Claus figures. Our Santas are made out of the most durable materials to ensure years of use. The fiberglass creations are ideal for indoor or outdoor use and can be paired with other figures and props to suit your needs. Choose a brilliant LED Santa for a landscaped area in front of a business or opt for a smaller Santa figurine for a home display. Whatever your needs are, you'll find the prefect Saint Nick to bring cheer and joy to your holiday.
Our impressive selection of Santa figures encompasses all interpretations of the jolly old man. Choose an elegant giant Saint Nick in flowing robes for a religious display or opt for a traditional North American Santa in a red suit for a yard display in front of a business or home. Our Santas are available in standing or sitting positions and can be paired with sleighs and reindeer for festive holiday scenes. No matter which size, design or type of Santa you choose, your Christmas display will surely be the talk of the town.