Nutcrackers are festive wooden carvings that take the shape of soldiers, knights, kings and other professions. It is believed that the first nutcracker was made in the 15th century and featured a person with a large mouth operated by a lever on the back of the figurine. When open, a nut could be placed in the mouth and cracked by pressing down on the lever. Modern nutcrackers have preserved the lever system, but are mainly decorative rather than functional.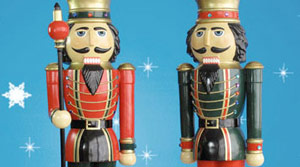 Nutcrackers are most closely associated with the Christmas season, for which they are considered a traditional symbol. The original Christmas nutcrackers first appeared in Germany and were thought to guard the household they were kept in because of their strong appearance. Since their inception, nutcrackers have been made of wood, though modern designs are introducing all-weather materials, such as fiberglass.
Christmas Night Inc. carries a large selection of nutcrackers and nutcracker soldiers to choose from. They are made of chip resistant materials and are suitable for indoor or outdoor use. Fiberglass nutcrackers are lighter than their wooden counterparts, making them easier to ship and easier to arrange in your holiday display. Our nutcrackers come in a variety of styles and sizes, ranging from petite figures of less than 3 feet to giant nutcrackers towering over 12 feet high. The incredible selection of styles and sizes make nutcracker decorations a great solution for businesses, individuals and shopping centers. They can even be used by production crews for commercials, movies and TV. The bold colors look great on camera and the durable materials maintain their luster even after heavy use.
High-quality holiday decor is easy to find when you shop at Christmas Night Inc. We carry all of the latest styles of nutcrackers, ranging from traditional soldiers to kings and more. Our impressive selection, competitive prices and fast shipping options make finding the right addition to your holiday display easier than ever. Shop today for a great selection of oversized nutcrackers and make your next holiday the best it can be.