Children throughout the world wait up on Christmas Eve for the arrival of Santa with his big red sleigh and reindeer. According to tradition, Santa pulls off what seems like an impossible feat every year as he loads up his sleigh full of toys and makes deliveries to the homes of all the good children. The sleigh is drawn by eight magical reindeer named Dasher, Dancer, Prancer, Vixen, Cupid, Comet, Donner and Blitzen. Of course, no one can forget about the final addition to the team, Rudolph, who led the reindeer on one foggy Christmas Eve night.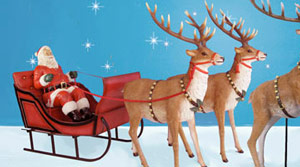 Capture the magic and mystery of the holiday season with a home or mall display featuring Santa, his sleigh and reindeer. Christmas Night Inc. carries a number of different displays to choose from, so you can always get the right size and style for your needs. Whether you're looking for a lightweight piece for your front lawn, a miniature set to mount atop a display shelf or a larger resin creation to mount on the roof of your business, our large selection of decorations and affordable prices will ensure your holiday display is the best on the block.
For those that feel bigger is always better, our life-size Santa, sleigh and reindeer sets are sure to please. The larger than life designs are sturdy enough to hold one adult or several children, making them a great prop for holiday parties, photography events, public celebrations and more. Our Santa, sleigh and reindeer displays are separated into 3 categories so you can easily find the right piece for your needs. Simply click on the category that most closely matches what you're looking for. Choose from life-size Santa, sleigh and reindeer displays, outdoor Santa, sleigh and reindeer displays or indoor Santa, sleigh and reindeer displays. After making your selection, choose from the available designs and sit back while your handsome holiday piece is delivered right to your home or business.