Indoor Santa sleighs are a popular choice for businesses looking to bring back popular holiday traditions. The sleighs make the perfect backdrop for photos and life-size sleighs can even act as props. Of course, no sleigh is complete without a team of reindeer and a jolly navigator in a red suit, so most of our sleighs are paired with the appropriate flight team. Christmas Night Inc. carries a large selection of indoor sleighs so you can create magical memories for everyone in your business, store, shopping mall or outdoor space.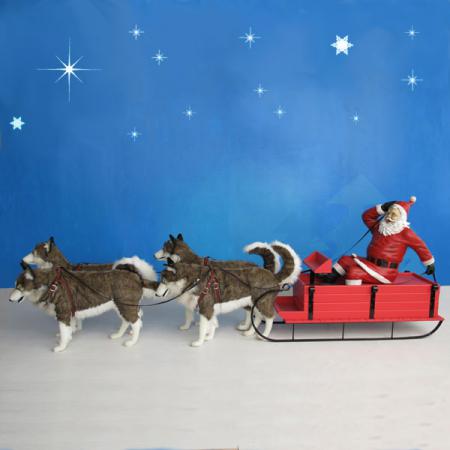 Item # 68624
Santa Sled with realistic plush Husky Dogs from Hansa's "Portraits in Nature".
Sleighs are available in the traditional red color of Santa Claus or in crisp white finishes. The sleigh style you choose will depend on the decor and theme you're trying to achieve. Our beautiful designs are all made by skilled craftsmen and have beautifully painted details.

The giant indoor sleigh sets measure between 8 and 16 feet wide. Smaller sleighs typically have fewer reindeer. Besides sleighs, we also carry several Santa figures to choose from, including sitting Santas that are posed to look as if they are flying the sleigh. For a truly unique piece, consider a Santa on a dog sled. The indoor Santa sleigh is pulled by a team of 4 Huskies, making it the perfect gift idea for dog lovers.