According to folklore, the candy cane was the invention of a German choirmaster who wanted a way to keep the children in his church quiet during the Living Crèche tradition of Christmas Eve. He asked a local candy maker to make the sweet sticks with a crook at the top to help the children remember the shepherds that paid a visit to infant Jesus, thus tying the candies into the Christmas season. Additionally, the sticks were made with a white swirl to symbolize the sinless life of Jesus.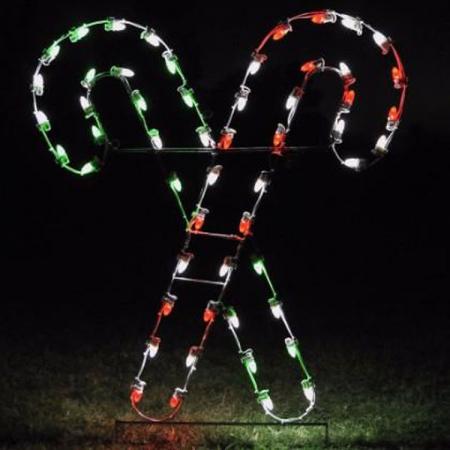 Crossed Candy Canes Red/White/Green C7 LED LD 5 ft. H
Item # 77728
Holiday Candy Cane Display lit with commercial grade C7 LED lights...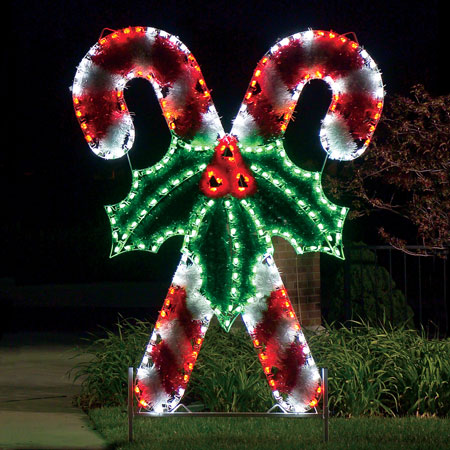 Garland Candy Canes C7 LED LD 8 ft. H
Item # 77731
Garland Candy Cane Display lit with commercial grade C7 LED lights...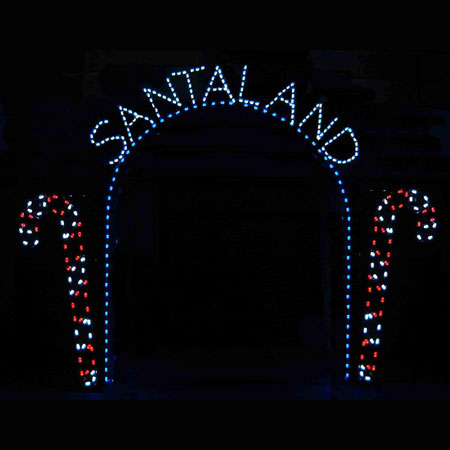 Santaland Arch Commercial C7 LED light Display 12 ft W
Item # 73891
Santa Arch LED Display with C7 LED lights...
Today, the candy cane has become synonymous with Christmas. Many families use the tasty treats as decorations on their tree, while businesses use giant candy cane figures in displays to celebrate the season. Christmas Night Inc. offers several large candy cane casts to choose from to bring the symbol of Christmas to any storefront, lobby or garden. Candy cane displays range in size from 4 to 6.5 feet.

Candy cane displays are made of chip-resistant materials that will look great for many holiday seasons to come. Each design includes its own base, making it easy to stand and display the candy canes. They are ideal for indoor or outdoor use and are shipped via truck due to the size of the displays.