Animated Reindeer Pair C7 LED Light Display 8 ft. W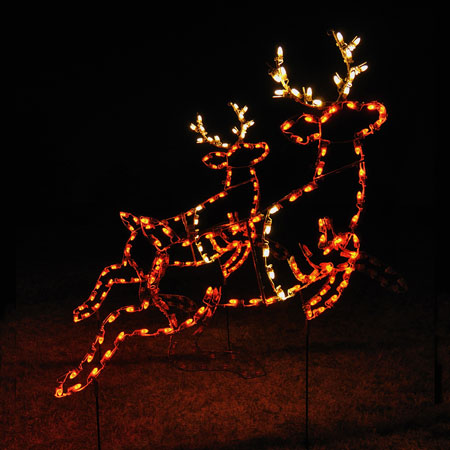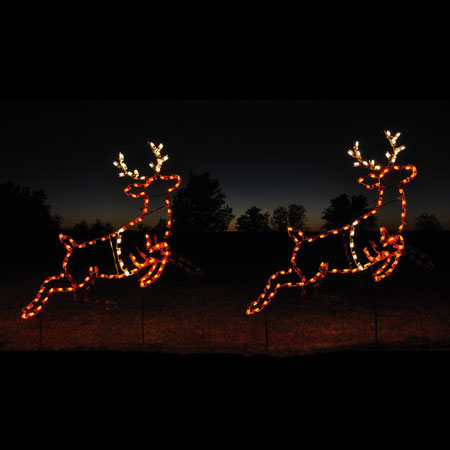 Item #77766
Animated Reindeer Pair Display lit with commercial grade C7 LED lights......Read More
&nbspSOLD OUT
Fixed shipping cost of $83.50 will be added to your order in 48 contiguous US states only. (Canadian provinces see shipping tab below)
This item is shipped only within the USA.
Featuring exciting moving legs, this set of two Holiday Lighting Specialists LED animated reindeer is absolutely ideal for your rooftop Christmas display. The figures are handcrafted in Canada with 234 commercial-grade C7 LED lights and may be easily inserted into the ground and secured with the included guy wires, set up on a flat surface with two 60-inch floor stands or displayed on a peaked roof with two 60-inch roof bases. To animate your Reindeer WITHOUT owning the sleigh, purchase an animation controller separately.
Display size: H 5.9' W 6.2' each
Weighs 22 pounds
Uses 1.7 amps and 204 watts
Five-season limited warranty
Shipping weight: 42 pounds
Made in Canada
Fixed shipping to 48 contiguous United States
Use your shipping cartons for safe storage between seasons.
For customers in Canadian Provinces shipping of US$83.50 plus 5% GST will be added to order.