Animated Garland Santa C7 LED LD 17 ft. H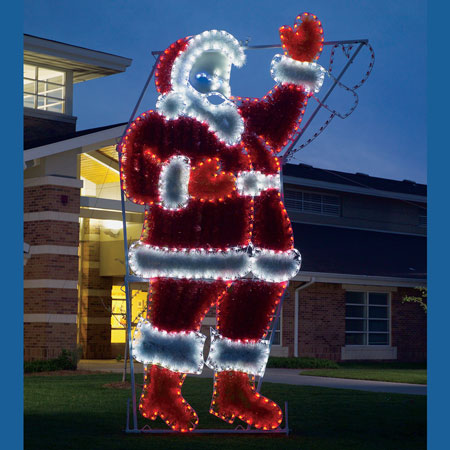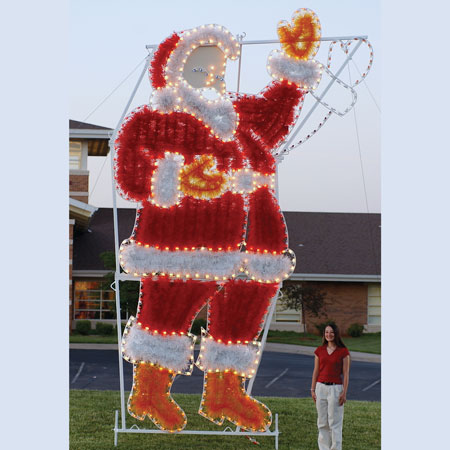 Item #77735
Garland Waving Santa Display lit with commercial grade C7 LED lights......Read More
&nbspSOLD OUT
Fixed shipping cost of $461.00 will be added to your order in 48 contiguous US states only. (Canadian provinces see shipping tab below)
This item is shipped only within the USA.
Animated Waving Santa Light Display professionally designed and built by hand using the highest quality materials, including commercial grade lights and fine cut garland. This Santa display arrives prelit in several section that bolt together. Made in Canada. This large display includes adjustable feet for elevating and balancing ground mounts. Use Guy wires to support the display.
Display Size: 17 ft H x 10.5 ft W
Product Weight: 144 lbs.
Santa waves to visitors. Animation speed is adjustable.
Prelit with 299 commercial-grade C7 LED lights rated for up to 50,000 hours of seasonal use.
To display on hard surface requires 1 Floor Stand, not included (see Item 77790 below)
Uses 2.2 Amps 264 Watts
Guy wires NOT included.Sold separately. Requires 4x Item 77794 plus 2x Item 77795 (see below)
5 seasons Limited Warranty
Shipping Weight: 244 lbs.
Made in Canada
Fixed shipping to 48 contiguous US states only
Canadian customers see Shipping Tab above.
Use your shipping cartons for safe storage between seasons.
For customers in Canadian Provinces shipping of US$461.00 plus 5% GST will be added to order.