African American Shepherd Boy 45"H - 54" scale Nativity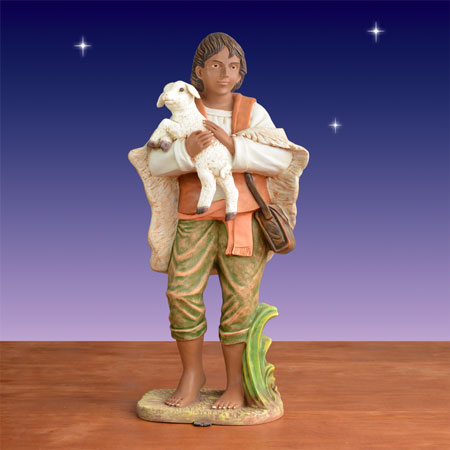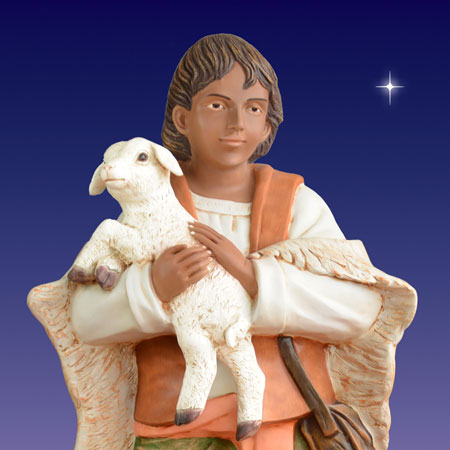 Item #33530
African American Shepherd Boy with Lamb from the 54 inch scale Nativity Collection...SEE BELOW FOR ADDITION FIGURES IN THIS COLLECTION....Read More
&nbspIN STOCK. Usually ships out next business day.
This item is shipped only within the USA.
The African American Shepherd Boy with Lamb is part of the 54-inch scale Christmas Night Nativity Collection. The beautiful and elegant design is awe inspiring and makes a great addition to any display. The detailed sculpture is carefully painted for a lifelike appearance. The shepherd boy is depicted cradling a small lamb. His bare feet and clothing suggest he comes from a humble background. Additional figures from the African American Christmas Night Nativity Collection are available separately.

The statue is designed by Christmas Night using high-quality fiberglass resin. The 8-step manufacturing process ensures a lightweight, yet durable product. The fiberglass base is carefully painted and sealed to ensure that it lasts for years to come. The Shepherd Boy with Lamb figure is suitable for indoor or outdoor use. The imported design is affordable enough to add to any holiday display.
Fiberglass construction
Dimensions: L12.5" W22" H44"
Product weight: 19 pounds
Ships via truck. Call 1-888-900-2070 for a shipping quote.
Shipping dimensions: L18" W24" H46"
Shipping weight: 28 pounds
Made in the Philippines
Indoor or outdoor use
Overseas shipping available
Christmas Night exclusive
Call 1 (888) 900-2070 for a shipping quote.
Make sure product is not in standing water, or covered with snow as this will soften paint and cause paint to separate from product. To clean product make sure it is completely dry. Wipe with a soft cloth or paper towel. To remove bird droppings or stubborn stains use a damp cloth. DO NOT use soap, chemicals, detergents or hoses. Store in the shipping carton in a dry location. When setting up figure make sure product is stable and will not be blown over by the wind. Removable security plates provided for securing to the ground.
GROUND SHIPPING OF PACKAGES AND SMALLER CARTONS
Our products are shipped either by ground courier such as FedEx or by truck.
The cost to ship your order by ground may be found in the shopping basket before entering your credit card.
Please put your order item(s) in the basket and click on the blue link titled "Calculate Shipping".
Enter your zip code in the box that appears and our website will calculate the FedEx Ground shipping cost, if your order can be shipped by ground.
If a message and not a cost appears, please call 888 900 2070 for complete shipping information.
FedEx Ground shipping takes from 1 to 6 days depending on your location in the US or Canada.