We treasure the story of the Three Wise Men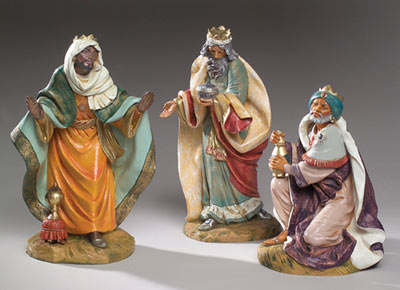 The miracle of Resurrection apparently so occupied early Christian thought that first chroniclers did not focus on Christ's long-awaited birth. About 75 years later, two later Gospel writers, physician Luke and tax collector Michael, chose to. Their two gospels document details found nowhere else. Both confirm Joseph had descended from King David, Mary and Joseph were engaged before the angel announced the miraculous conception of the Savior who would be named Christ, the birth was in Bethlehem, and the Holy Family ultimately settled in Nazareth.
Between them, Luke and Matthew further clarify Mary and Joseph had left Jerusalem pay taxes in Bethlehem and prepare for Jesus' birth. They also say the Magi visited the Nativity and the family found refuge from Herod's wrath in Egypt before returning to Nazareth after his death.
Many interpreters and artists have addressed the three Magi visitors. Matthew depicts them as the first Gentiles to recognize Jesus'significance, thus the very first worshippers. Falling before the Messiah-King, they presented extraordinary gifts: gold fitting a true king, frankincense recognizing the Son of God, and myrrh symbolizing His anticipated immortality.
We are not sure which label handed down over time best describes these Magi, whom Western Christians later named Gaspar, Melchior, and Balthasar. The Greek word magoi covers magicians, fortune-tellers, priestly visionaries, and astrologers. Connecting them with the star, Matthew may have thought they were astrologers, but they could have been astronomers.
Neither are we sure why, how, or from where Magi came. Many think they traveled from Babylonia or Persia. If they indeed asked King Herod about the arrival of a ruler who would upset his rule, they were probably Gentiles, not Jews.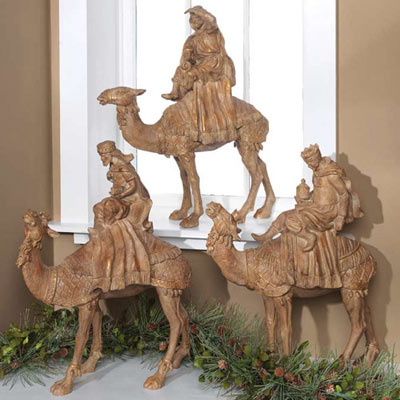 Magi were free to mix with kings and others in high places. Dedicated to traveling afar and gathering broad perspectives of the world, some represented kings, and all sought knowledge. Peers undoubtedly regarded them as sophisticated and wise. Having a star guide their path to the Nativity surely helped our three Magi grasp their mission's importance. After seeing the newborn Babe, they wisely went home another way to avoid the cruel despot Herod.
Whatever the occupations of the Magi who found Jesus, they surely were three "wise men."
Over generations of storytelling, they have further graduated to "kings" in the eyes of many. Though no records indicate any of them was one, artists, writers, and many cultures have embraced all three as kings.
The Old Testament had said kings would come to the "brightness of dawn" (Isaiah) and bring gifts in tribute (Psalms). The three men of substantial stature who fell down before Christ recognized Him as the long-awaited King of the Jews. These already respected individuals gained even more esteem as they witnessed what they had seen. Those they told may have readily elevated them to "kings."
Though scholars may question details, ordinary people worldwide treasure the story we have learned over the ages. Most of us simply want to celebrate Christ's birth. Content with our Magi, we are sure they were Three Wise Men and comfortable if they were Three Kings too. They are essential to our Nativity scenes, our hymns, and "everything Christmas."
Maura F. Wood
August 15, 2004