St. Francis and the Manger
In the early part of the thirteenth century Saint Francis of Assisi was troubled by the lack of holiness in the holiday season. Even in those days, children were more concerned about their gifts than the birth of Christ. Adults kept an account of who gave them what instead of giving from the heart. There was a lot of drunkenness and desire. The fact that God came to earth as a man seemed to be lost in the preparations for the feasting and merry making.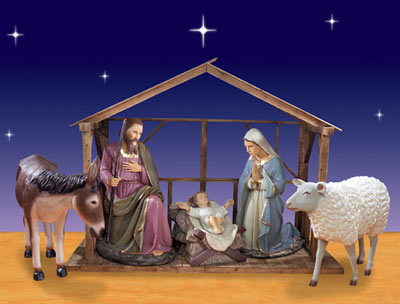 As Francis often did when he was troubled, he went to a cave on Mount Subasio and prayed. In his revelry an answer came to him: he had remembered the humble birth of our Lord and came up with a plan to remind people of the real reason we celebrate Christmas.
For weeks he prepared. Three of the monks were dressed as Kings. Other monks would come as shepherds. A farmer agreed to loan him a donkey, a cow, chickens and sheep. He found a carpenter to portray Joseph and a beautiful young maiden to portray Mary.
It was Christmas Eve and everything was set. He chose a cave on the edge of the village of Greccio because it reminded him of the biblical description of the manger. Even in his own time Francis was well known. When word went out that he had arranged a special celebration of Christmas, people came from far and near.
(Imagine now that you are standing on the side of this hill, near the cave. It is just past sunset and the light is fading from a rose colored sky. Looking out over the valley you see hundreds of people gathering. Some are carrying torches, others candles. Each person carries their own light. From each home and village a trickle of light flows towards the cave. These trickles of light gather into streams and rivers. Soon a flood of light flows up hill to the mouth of the cave. Do you see the brightness that everyone carries?)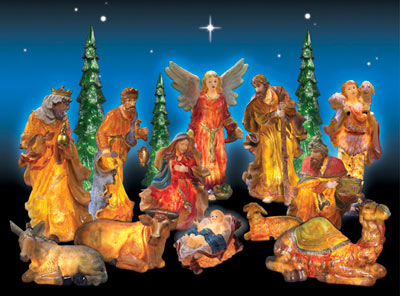 Just as everyone arrived, Francis realized that he had forgotten something. The shepherds and sheep were there, so were the three kings and their horses. There was a donkey, a cow and some chickens sleeping or scratching in the straw. Mary and Joseph were there. How could he? Francis had forgotten the baby!
Just then he saw a spark in the straw. At first he thought the spark had leapt from a candle or torch and was threatening to send the place up in flames. But then it took shape. A small ball of fire began to grow and softly glow. Right before the eyes of a thousand seekers, the glowing light took the shape of an infant. For the second time, God came to earth as a child. Everyone present witnessed a miracle.
Francis could not let the baby rest on the cold hard ground. He scooped the Christ child up into his arms and cuddled him. He cooed and made faces at the baby and realized the true meaning of Christmas.
God came to earth not as a king but as the child of a poor carpenter. He was not born in a palace but in a manger among animals. God is there to take care of us, but also to be taken care of, to be nurtured and held securely. And just as we may make faces and silly sounds with an infant, not caring what others may think, so it is with God, we can most truly be ourselves. Though chaste, Francis gave birth. For a moment he knew the pleasure of fatherhood. He also gained a deeper appreciation of our Father and his infinite wisdom. What a blessing for us all!
And so it has been to this day: throughout the world we celebrate the birth of Christ with the nativity, an idea inspired by a poor man from Assisi. How many of you have a manger set that you place near the tree at Christmas? Whether your manger set is hand carved of rare wood or molded from plastic, when you arrange the decorations on your mantel or coffee table think of Saint Francis and this story. More importantly, remember the real reason we celebrate this Holy day. And maybe, as they do in Italy, you may wish to set the kings and camels at a distance on the first night and inch them closer each day to remind yourself of that journey to be nearer to God. Keep the baby Jesus under wraps and place Him in the manger on Christmas Eve to remind yourself of the night God came to earth to bless us all with peace eternal.
-Brian "Fox" Ellis
Fox Tales International
www.foxtalesint.com