Shepherd Boy 60 inch H - 6 foot scale Outdoor Nativity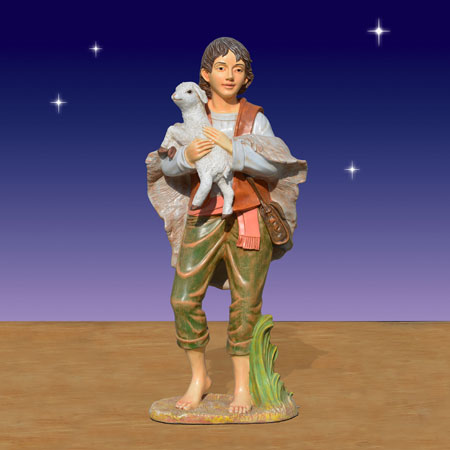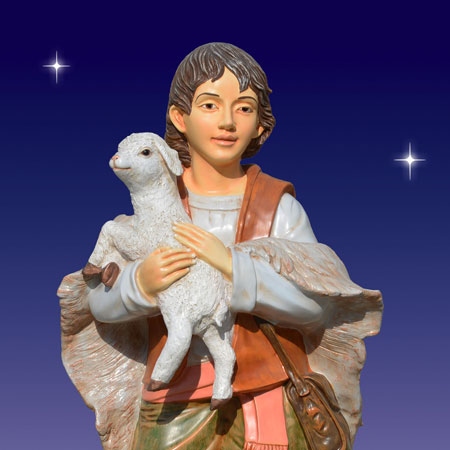 Item #31021
Nativity Shepherd Boy in the 6 foot scale is perfect for display in places of distinction in institutions, businesses and churches......Read More
&nbspJUNE 2018
Call 1 (888) 900-2070 for a shipping quote.
The Shepherd Boy is a classic figure from the Nativity and no community Nativity scene would be complete without a statue of him to represent the innocence and purity of mankind. The Shepherd boy is shown holding a white lamb, a common symbol in the Bible that represents purity and innocence. Order the Shepherd Boy by Christmas Night to complete your Nativity set and create a breathtaking display that will inspire and humble all those who see it.

The carefully crafted figure is made using high-quality fiberglass resin. The patented 8-step manufacturing process allows the figure to be incredibly lightweight, yet durable. The piece is carefully painted for accuracy and includes many subtle details that add to the design. The large figure is sealed, making it ideal for indoor or outdoor use. The Shepherd Boy figure is part of the Christmas Night Nativity Collection.
Fiberglass construction
Dimensions: L26.3" W18.5" H60"
Product weight: 34 pounds
Ships via truck. Please call 1-888-900-2070 for a shipping quote.
Shipping dimensions: 35"x35"x66" - weight 76 pounds
Made in the Philippines
Indoor or outdoor use
Overseas shipping available
Call 1 (888) 900-2070 for a shipping quote.
Make sure product is not in standing water, or covered with snow as this will soften paint and cause paint to separate from product. To clean product make sure it is completely dry. Wipe with a soft cloth or paper towel. To remove bird droppings or stubborn stains use a damp cloth. DO NOT use soap, chemicals, detergents or hoses. Store in the shipping carton in a dry location. When setting up figure make sure product is stable and will not be blown over by the wind. Removable security plates provided for securing to the ground.
TRUCK SHIPPING OF LARGE ITEMS
Many of our large outdoor Nativity Sets and outdoor decoration figures are too heavy and bulky for UPS or FedEx and must be delivered by truck. These items are shipped on wood pallets and are delivered by appointment. The average cost of this delivery service is 20 to 25% of the product cost in the Eastern US (except Florida at up to 30%) and 30 to 40% of the product cost for the US west coast and South Texas. Use these average percentages to estimate the landed cost of this item. These percentage shipping cost averages apply to residential delivery. Shipments to commercial locations with loading docks or fork lift equipment will be cheaper. Please note, churches, hospitals and military locations are considered congested and are classified as residential by the trucking companies.
Costs to deliver to Canada may be higher and will require the use of a customs broker and the payment of PST, GST and brokerage fees. Please call 888 900 2070 for details.
Shipments to Alaska, Hawaii and Puerto Rico will require special arrangements involving ships and must be specially quoted, as must shipments to foreign countries. Please call our Logistics Department at 888 900 2070 for details.
Truck shipping rates are greatly affected by the cost of oil as it impacts the cost of gasoline and diesel fuel used by the trucks. As a result, freight rates change weekly or even more often and should be verified before shipment.
When you call our Logistics Department at 888 900 2070 for a US shipping quote, please provide the item number, your name and zip code and a phone number where you can be sure to be reached during the day. We will try to provide you with a US truck shipping quote within 30 minutes during our working hours of 8:30 to 5:00 Eastern time, Monday through Friday.





01/22/18
Anonymous
This piece is the latest additional to our Nativity collection. The coloring and detail of this piece is amazing. He has the face of an angel and we have so many compliments on this shepherd boy and all the pieces we have purchased form Christmas Nights. Any additional pieces purchased will also come from Christmas Nights.