Christmas Night Inc. carries a vast selection of wooden stables in a variety of sizes. Choose a beautiful life-sized piece for an outdoor Nativity display or select a smaller stable for an indoor crèche. According to tradition, Mary gave birth to Jesus in a stable, as there was no room in the inn. Because of this, many modern Nativity scenes are set in a stable to recreate this scene with authenticity..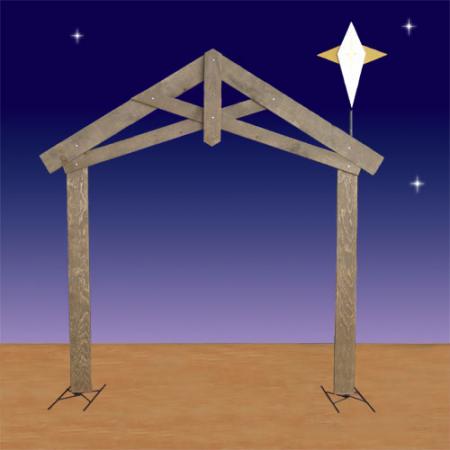 Life Size Nativity Stable with Star 2D Display 94"H
Item # 84210
Life Size Stable with Star cut from high quality wood panel and hand crafted in the United States...
Our collection of wooden stables includes stables made using pine or cedar, both of which are known for aging gracefully, even outdoors. Several styles are available to complement all types of Nativity sets. Select wooden stables are made by skilled Amish carpenters in Pennsylvania.
Stables are also available as standing light displays. The bright designs are ideal for outdoor light displays and are illuminated with energy-efficient LED lights. The large pieces can easily be viewed from a distance and are perfect for drive-through holiday displays. Stands are included for easy setup.
Oversized items ship via truck. Smaller stables ship by FedEx ground. Additional shipping information can be found by clicking on the page for the individual stable.