Nothing says Christmas more than a jolly Santa Claus figure decked out in his signature red suit with white fur trim. Table top Santas are the perfect way to celebrate the holiday in your home. Just display one on a table, mantle, desk or other surface and instantly bring an heir of festivities to any space. Table top Santas can be used in virtually any location from private homes to offices, and more.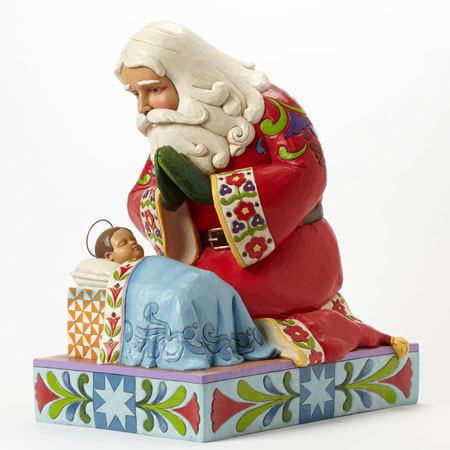 Item # 85706
Remember the true meaning of Christmas with this Santa with Baby Jesus designed by Jim Shore...
Christmas Night Inc. carries a variety of table top Santa figures to choose from including popular depictions of the jolly man carrying his magical bag of gifts. The gift-toting North American version of Santa is dressed in his red suit and has a perpetual smile that is sure to spread holiday cheer wherever it is placed. Another popular version features Santa Claus holding onto a lamp post, similar to the type one would expect to find in the North Pole. Like other depictions of the man in red, the lamp post clutching Santa is full of joy and smiling from ear to ear.

Order your favorite table top Santa today and enjoy the beauty, quality and timelessness of the Christmas classics. Our Santa Claus figures are carefully crafted and include finely painted details. They are available to order all year for convenience.