Resting Camel (54" scale) - Fiberglass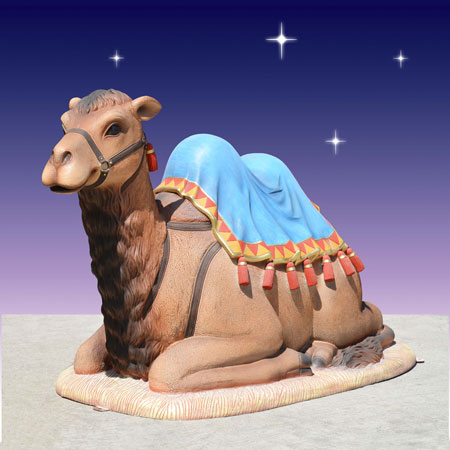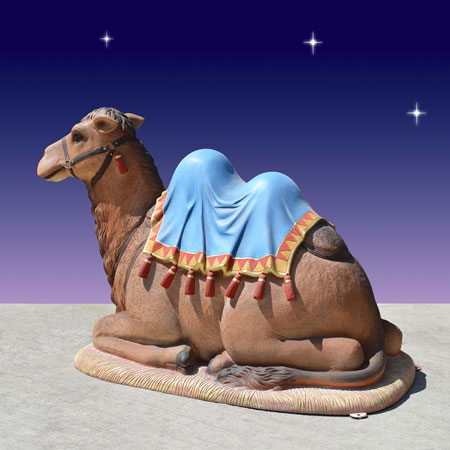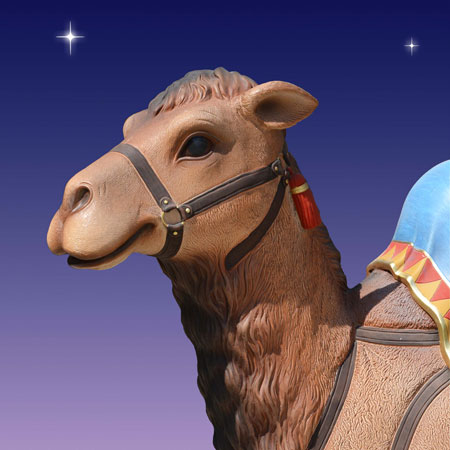 Item #33150
Add the Resting Camel to your Nativity and share the celebration of Christmas with your community......Read More
&nbspIN STOCK. Usually ships out next business day.
Call 1 (888) 900-2070 for a shipping quote.
The regal Resting Camel would have transported one of the Three Kings to the Bethlehem to see the infant Jesus. Additional pieces, including the Holy Family, the Three Kings and sheep are available separately. The large camel is constructed of fiberglass and has been carefully hand-painted for a vibrant finish. The figure is ideal for both indoor and outdoor use.
The camel is 35 inches tall and comes with metal plates on the base for securing to the ground. The camel's lifelike appearance and straw bed base make it the perfect addition to any Nativity scene. This camel statue is designed by Christmas Night Inc. and is part of the 54-inch scale Christmas Night Nativity Collection.
Measures H 35" W 29" L 54"

Product weight: 25 pounds

Fiberglass construction
Indoor or outdoor use
Shipping weight: 120 pounds
Shipping dimensions: H 60" W 35" L 43"
Make sure product is not in standing water, or covered with snow as this will soften paint and cause paint to separate from product. Clean with a damp cloth. A non abrasive surface cleaner such as Formula 409 glass may be used for stubborn spots or bird droppings. Store in the Original shipping carton in a dry location.
GROUND SHIPPING OF PACKAGES AND SMALLER CARTONS
Our products are shipped either by ground courier such as FedEx or by truck.
The cost to ship your order by ground may be found in the shopping basket before entering your credit card.
Please put your order item(s) in the basket and click on the blue link titled "Calculate Shipping".
Enter your zip code in the box that appears and our website will calculate the FedEx Ground shipping cost, if your order can be shipped by ground.
If a message and not a cost appears, please call 888 900 2070 for complete shipping information.
FedEx Ground shipping takes from 1 to 6 days depending on your location in the US or Canada.