Real Life Nativity Set 17 pc. 14" scale w/Stable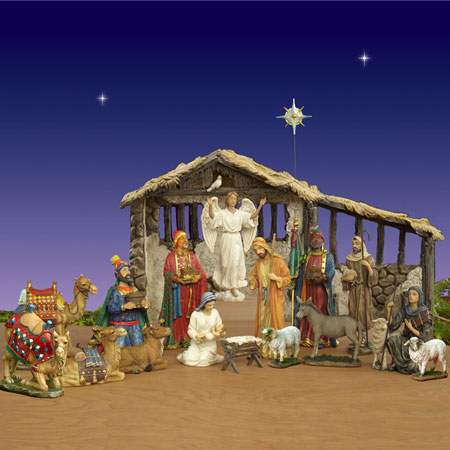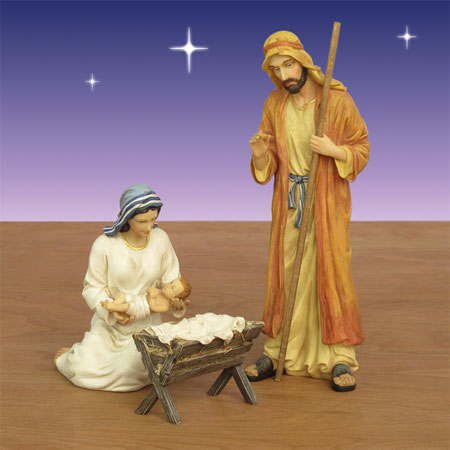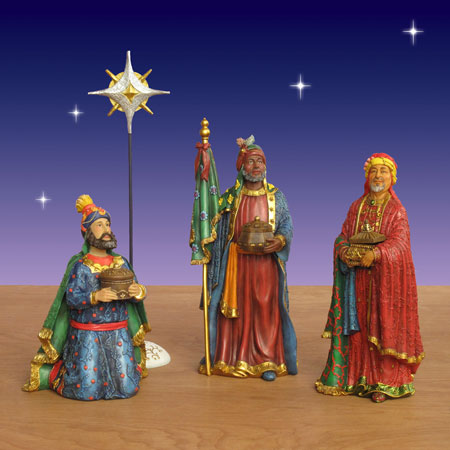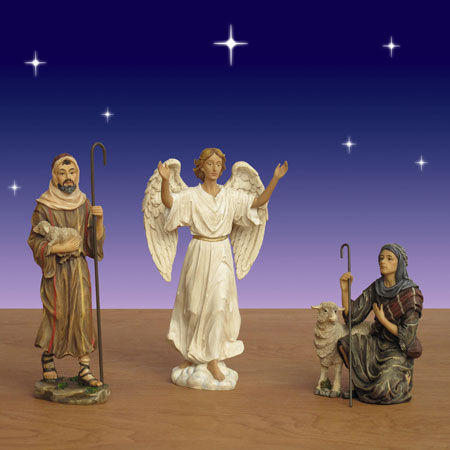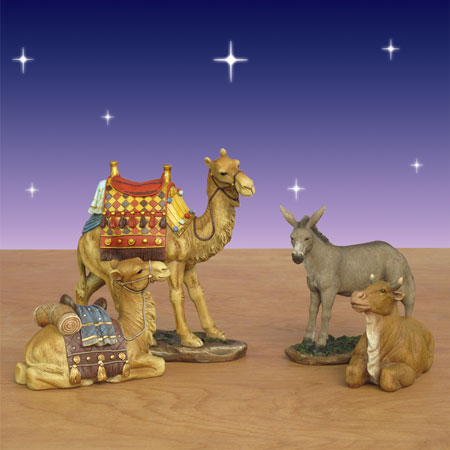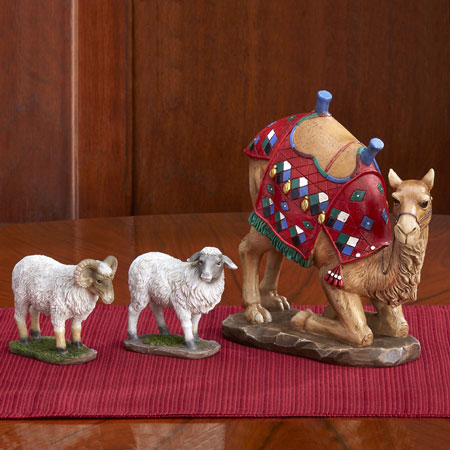 Item #83101
The Real Life Nativity Set from Three Kings Gifts with lighted Stable......Read More
&nbspSOLD OUT
This item is shipped only within the USA.
The incredible 14-inch scale Three Kings Real Life Nativity Set with Stable is an heirloom quality nativity set with real-life elements - including 23-karat gold and authentic frankincense and myrrh - that will delight Christmas collectors. The set includes 17 hand-painted polymer resin figures, including lifelike depictions of the Holy Family, the Three Kings, shepherds, an ox, a donkey, a sheep, a goat, camels and an angel plus a gorgeous stable with a battery-operated light. This Three Kings nativity also features a removable Baby Jesus figure that can be placed in the manger or in Mary's arms.
Tallest figure: King Balthazar H 14"
Stable dimensions: H 17" W 21" D 7.5"
Shipping weight: 47 pounds
Shipping dimensions (figures): L 19" W 19" H 29"
Shipping dimensions (stable): H 24" W 13" D 33"
Indoor use only
Indoor use only.
TRUCK SHIPPING OF LARGE ITEMS
Many of our large outdoor Nativity Sets and outdoor decoration figures are too heavy and bulky for UPS or FedEx and must be delivered by truck. These items are shipped on wood pallets and are delivered by appointment. The average cost of this delivery service is 20 to 25% of the product cost in the Eastern US (except Florida at up to 30%) and 30 to 40% of the product cost for the US west coast and South Texas. Use these average percentages to estimate the landed cost of this item. These percentage shipping cost averages apply to residential delivery. Shipments to commercial locations with loading docks or fork lift equipment will be cheaper. Please note, churches, hospitals and military locations are considered congested and are classified as residential by the trucking companies.
Costs to deliver to Canada may be higher and will require the use of a customs broker and the payment of PST, GST and brokerage fees. Please call 888 900 2070 for details.
Shipments to Alaska, Hawaii and Puerto Rico will require special arrangements involving ships and must be specially quoted, as must shipments to foreign countries. Please call our Logistics Department at 888 900 2070 for details.
Truck shipping rates are greatly affected by the cost of oil as it impacts the cost of gasoline and diesel fuel used by the trucks. As a result, freight rates change weekly or even more often and should be verified before shipment.
When you call our Logistics Department at 888 900 2070 for a US shipping quote, please provide the item number, your name and zip code and a phone number where you can be sure to be reached during the day. We will try to provide you with a US truck shipping quote within 30 minutes during our working hours of 8:30 to 5:00 Eastern time, Monday through Friday.





01/17/16
P. GOAD
This nativity set is the most realistic one I've ever seen, excellent quality, and the best that money can buy. It is just BEAUTIFUL. I would recommend this set to everyone. Christmas Night Inc. has the best price around, excellent packaging, and fast shipping too. You will not be disappointed.





01/23/18
Anonymous
The 14" classification, listed throughout your advertising, is very misleading -- there is only one piece in the set that is 14 inches tall -- everything else is about 12 inches, like the Joseph figure. The standing camel is NOT close to "real life" in size -- it is shorter than either of the two standing Wise Men/Kings. The sheep that is standing next to the kneeling shepherd, in the set containing the Joseph and Mary figures, does not look anything like the two reportedly "authentic" sheep of biblical times that are sold in a separate kit -- but that kit says it matches the 14" deluxe nativity. I bought all of the 14" deluxe sets; and I gave my review 3.5 stars because all of the sets are elaborately decorated!