Nativity Sheep Ivory 40" scale by Josephs Studio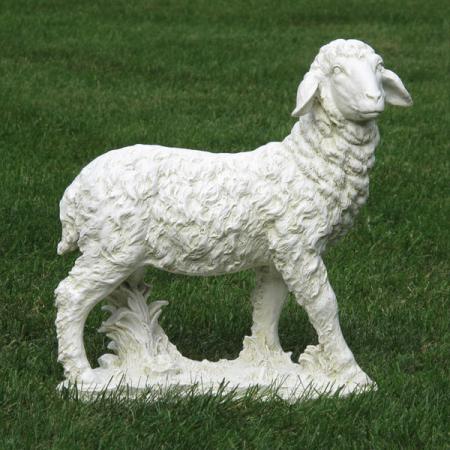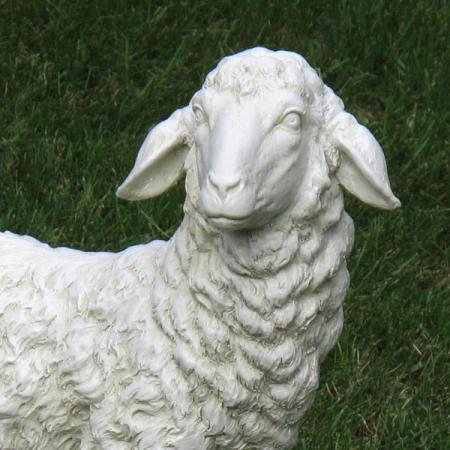 Item #59610
MSRP $65.00
Your Price $45.00
Add the Standing Sheep to your Large Ivory Nativity Set......Read More
&nbspSOLD OUT
This item is shipped only within the USA.
The 40-inch scale Joseph's Studio Collection Nativity Sheep Statue is a must-have for the Ivory Nativity scene. The lovely sheep is scaled to match the 40-inch large Ivory Nativity Set, which is also part of the Roman Inc. Joseph's Studio Collection. The figure is designed by Roman Inc. and made at Joseph's Studio. The statue depicts a lovely sheep in a standing position. The figure is beautifully detailed, with a textured body that resembles real wool.
The Ivory Nativity Sheep has a beautiful natural finish that looks great in any garden space. It may also be used indoors, since the lightweight resin-stone material makes the sheep easy to position, move and store. A built-in base disguised to look like a patch of grass provides improved stability. The attractive sheep is part of the large Ivory Nativity Set (item 59600) from Roman Inc.
Joseph's Studio Collection
Dimensions: L 20" W 5" H 12"

Weight: 6 pounds

Resin-stone construction
Indoor or outdoor use
Shipping weight: 8 pounds
Shipping dimensions: L 8" W 12" H 20"
When setting product up outdoors make sure product is placed on a level surface and will not be blown over by the wind. Make sure product is not in standing water, or covered with snow as this will soften paint and cause paint to separate from product. At the end of the season bring product indoors. Make sure it is thoroughly dry before cleaning with a soft cloth or paper towel. For bird droppings or stubborn stains use a damp cloth. Do not use chemicals, soaps, detergents or hoses. Store in the original shipping carton in a dry location.
TRUCK SHIPPING OF LARGE ITEMS
Many of our large outdoor Nativity Sets and outdoor decoration figures are too heavy and bulky for UPS or FedEx and must be delivered by truck. These items are shipped on wood pallets and are delivered by appointment. The average cost of this delivery service is 20 to 25% of the product cost in the Eastern US (except Florida at up to 30%) and 30 to 40% of the product cost for the US west coast and South Texas. Use these average percentages to estimate the landed cost of this item. These percentage shipping cost averages apply to residential delivery. Shipments to commercial locations with loading docks or fork lift equipment will be cheaper. Please note, churches, hospitals and military locations are considered congested and are classified as residential by the trucking companies.
Costs to deliver to Canada may be higher and will require the use of a customs broker and the payment of PST, GST and brokerage fees. Please call 888 900 2070 for details.
Shipments to Alaska, Hawaii and Puerto Rico will require special arrangements involving ships and must be specially quoted, as must shipments to foreign countries. Please call our Logistics Department at 888 900 2070 for details.
Truck shipping rates are greatly affected by the cost of oil as it impacts the cost of gasoline and diesel fuel used by the trucks. As a result, freight rates change weekly or even more often and should be verified before shipment.
When you call our Logistics Department at 888 900 2070 for a US shipping quote, please provide the item number, your name and zip code and a phone number where you can be sure to be reached during the day. We will try to provide you with a US truck shipping quote within 30 minutes during our working hours of 8:30 to 5:00 Eastern time, Monday through Friday.





12/09/10
L. Brandt
Sweet, lovely piece. Nice proportions. A little light-weight. Needs a family ... hope St. Joseph's comes up with another sheep or two in different poses!