Make a statement with a large seasonal sign. Christmas Night Inc. carries a large selection of jumbo signs with festive messages such as "Seasons Greetings", "Merry Christmas", "God Bless America", "Happy Holidays" and more. Lit message signs are the perfect way to welcome visitors to your store, park, church or holiday display. If a plain sign isn't quite enough to get you in the holiday spirit, we also carry lit menorah displays and message signs with lit candy cane or holly accents.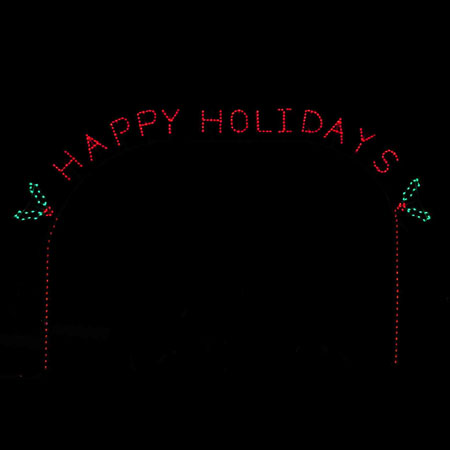 Happy Holidays Arch Commercial C7 LED light Display 22 ft W
Item # 73890
Happy Holidays Arch LED Display with C7 LED lights...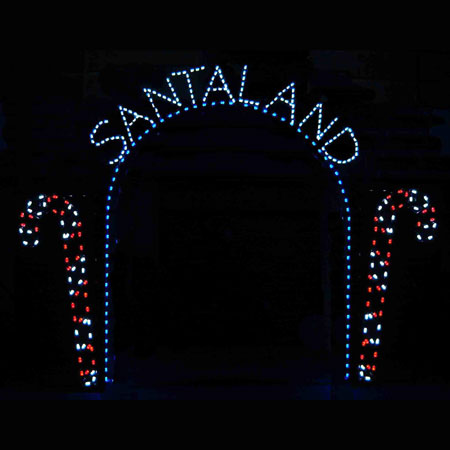 Santaland Arch Commercial C7 LED light Display 12 ft W
Item # 73891
Santa Arch LED Display with C7 LED lights...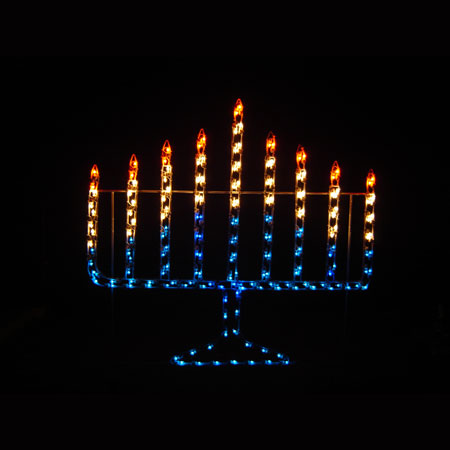 Item # 71890
Menorah Display lit with commercial grade C7 LED lights...
Our signs are made with high-efficiency LED lights. Signs range in size based on the message, from under 12 feet wide to 35 feet wide or more. Choose the piece that suits your space and best expresses your holiday sentiment. The fonts chosen for the signs are designed for maximum readability. All signs are written in a single color of light, the preferred choice for nighttime displays. Signs are made using high-quality materials and are made in a single piece. All lit signs are designed to be powered by a single connection, for convenience. Building mounts are standard, but ground or skyline mounts are also available.