Old World Donkey (26"W) 40" scale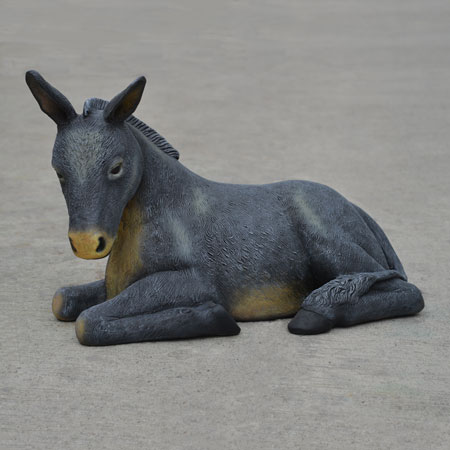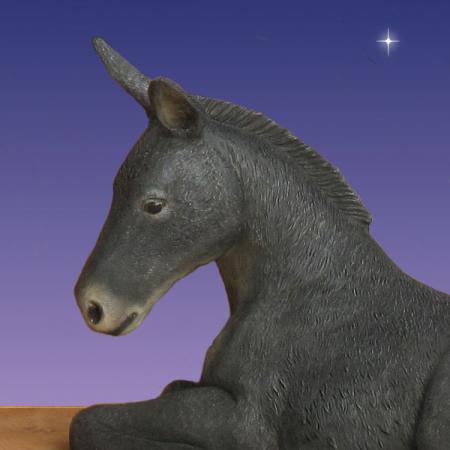 Item #38540
Large Donkey from the 40" scale Christmas Nativity......Read More
&nbspIN STOCK. Usually ships out next business day.
The Old World Donkey is a terrific barnyard addition to your Nativity display. According to tradition, the noble donkey was the mount used by Mary to ride to Bethlehem to give birth to Jesus. The beautifully detailed piece is designed by Christmas Night and executed by Heinimex. The high-quality craftsmanship is evident throughout the piece's excellent detailing and durable finish. The donkey is presented in a resting position, with its head raised.
The Old World Donkey is part of the Old World Nativity Set (see items 33599 and 33600), a Christmas Night exclusive. It is made of fiberglass resin to be lightweight yet durable. The piece is painted in full color and is finished with a clear coating to protect the paint. The donkey is suitable for indoor or outdoor use and ships quickly, usually leaving the warehouse in just one business day.
Christmas Night exclusive
Dimensions: L 26" W 17" H 19"

Product weight: 8 pounds

Fiberglass resin construction
Indoor or outdoor use
Shipping weight: 12 pounds
Shipping dimensions: L 31" W 19" H 23"
When setting product up outdoors make sure product is placed on a level surface and will not be blown over by the wind. In windy locations place a wood stake in the ground behind each standing figure and secure it to the figure with heavy fishing line or wire. Make sure product is not in standing water, or covered with snow as this will soften paint and cause paint to separate from product. At the end of the season bring product indoors. Make sure it is thoroughly dry before cleaning with a soft cloth or paper towel. For bird droppings or stubborn stains use a damp cloth. Do not use chemicals, soaps, detergents or hoses. Store in the original shipping cartons in a dry location.
GROUND SHIPPING OF PACKAGES AND SMALLER CARTONS
Our products are shipped either by ground courier such as FedEx or by truck.
The cost to ship your order by ground may be found in the shopping basket before entering your credit card.
Please put your order item(s) in the basket and click on the blue link titled "Calculate Shipping".
Enter your zip code in the box that appears and our website will calculate the FedEx Ground shipping cost, if your order can be shipped by ground.
If a message and not a cost appears, please call 888 900 2070 for complete shipping information.
FedEx Ground shipping takes from 1 to 6 days depending on your location in the US or Canada.