God Bless America Rope light LED Light Display 42.7 ft. W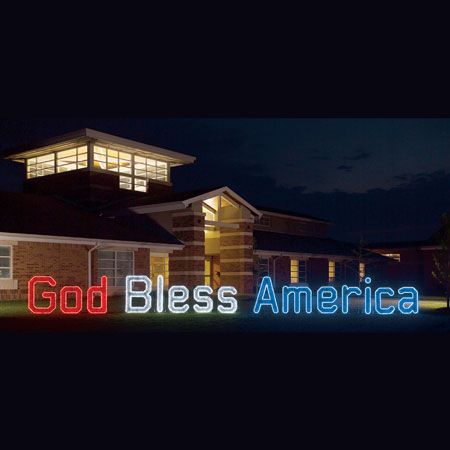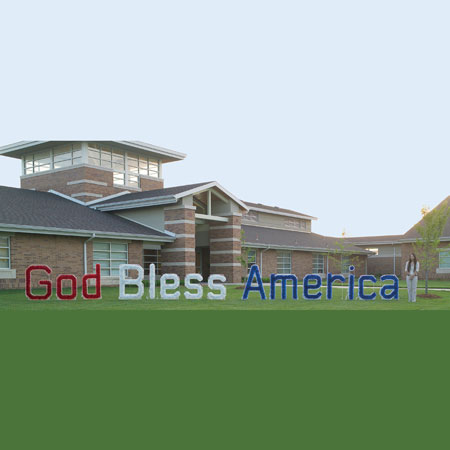 Item #78718
God Bless America Display lit with commercial grade LED rope lights and filled with fine-cut garland......Read More
&nbspIN STOCK. Usually ships out within 1 week.
Fixed shipping cost of $302.00 will be added to your order in 48 contiguous US states only. (Canadian provinces see shipping tab below)
Put your patriotism on display during the holidays, the Fourth of July or year-round with this huge "God Bless America" sign. Handmade by the expert craftspeople at Holiday Lighting Specialists, this sign is designed to be attractive day and night, with 2,800 commercial-grade rope light bulbs for illuminating the night and good-looking, fine-cut garland for daytime viewing. It comes pre-lit and ready to install with included ground stakes and guy wires for ground mounting. It also features Holiday Lighting Specialists' cool integrated wiring harness that connects to each letter so that only a single extension cord is required for powering the whole display.
Display size: H 3.9' W 42.7'
Weighs 125.6 pounds
Uses 1.60 amps and 192 watts
Five-season limited warranty
Shipping weight: 194 pounds
Made in Canada
Fixed shipping to 48 contiguous United States only
Canadian customers reference shipping tab
Use your shipping cartons for safe storage between seasons.
For customers in Canadian Provinces shipping of US$302.00 plus 5% GST will be added to order.