Fontanini Seated Sheep 18" scale Masterpiece Collection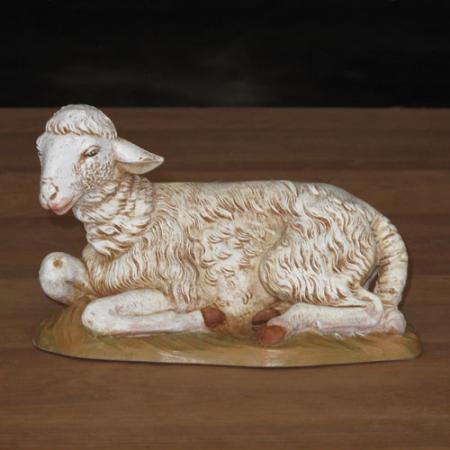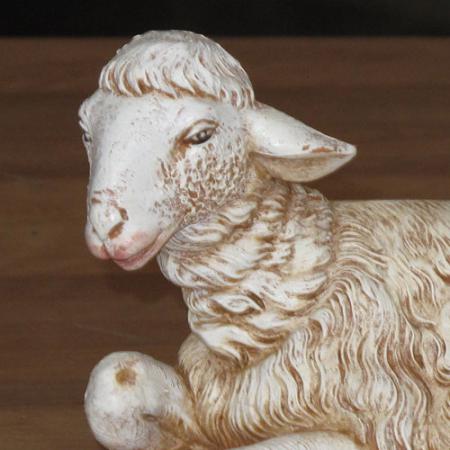 Item #51718
Fontanini Seated Sheep from the 18" Masterpiece Collection Nativity. ...Read More
&nbspLIMITED. Please call 888-900-2070
Complete your indoor nativity set with this striking lying sheep figure by Fontanini. Hand-painted with exceptional detail and character, the Fontanini Masterpiece Collection Lying Sheep makes a pastoral addition to your Christmas display. The sheep is part of the complete Fontanini Masterpiece Nativity Collection Set, which is also available at Christmas Night Inc., and is made from break-resistant polymer.
Dimensions: L 9" W 6" H 6"
Weight: 2 pounds

Made in Italy

Shipping weight: 3 pounds
Shipping dimensions: L 11" W 11" H 11"
CAUTION FOR OUTDOOR USE - Full sun will cause colors to fade, a shaded location is recommended. Protect your investment against theft - display in a secure location or use security ground stakes or other security system. Make sure product is not in standing water, or covered with snow as this will soften paint and cause paint to separate from product. If cleaning is necessary proceed with care. Use a soft cloth or paper towel to wipe surface and a damp cloth for any stubborn spots. DO NOT USE soap, chemicals, detergents or hoses. Store in original shipping cartons.
GROUND SHIPPING OF PACKAGES AND SMALLER CARTONS
Our products are shipped either by ground courier such as FedEx or by truck.
The cost to ship your order by ground may be found in the shopping basket before entering your credit card.
Please put your order item(s) in the basket and click on the blue link titled "Calculate Shipping".
Enter your zip code in the box that appears and our website will calculate the FedEx Ground shipping cost, if your order can be shipped by ground.
If a message and not a cost appears, please call 888 900 2070 for complete shipping information.
FedEx Ground shipping takes from 1 to 6 days depending on your location in the US or Canada.