Christmas Holy Family Joseph's Studio 40 inch scale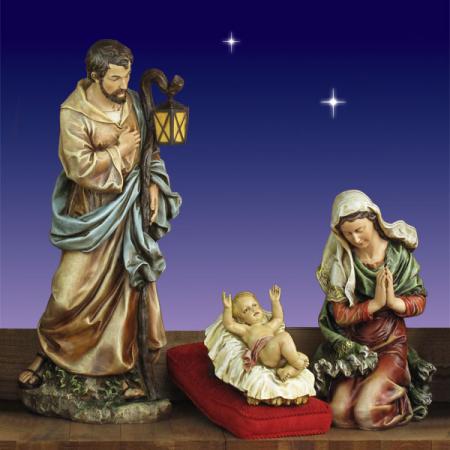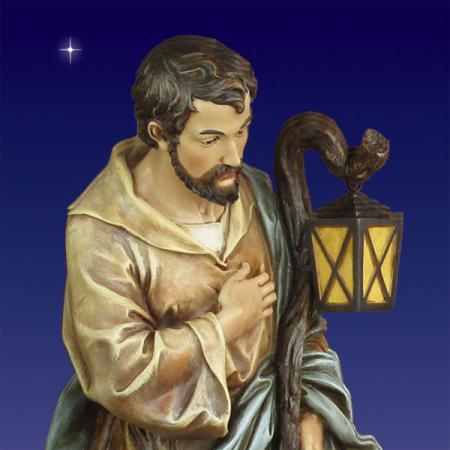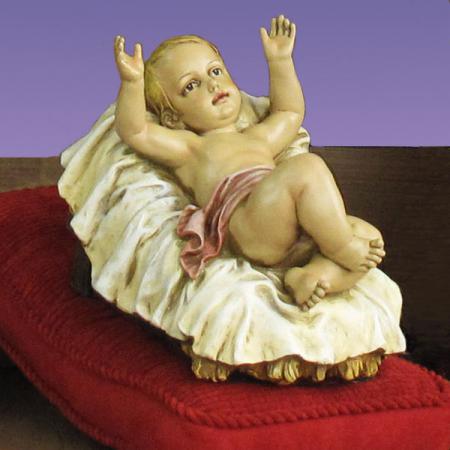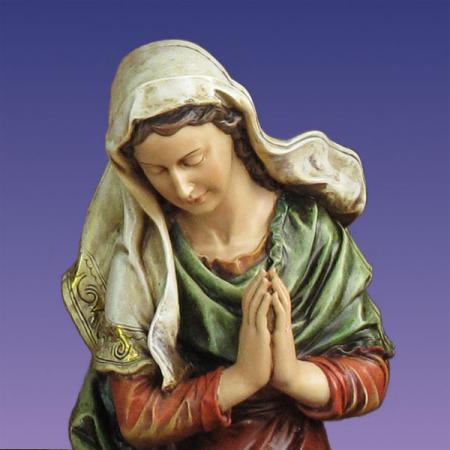 Item #58520
MSRP $615.00
Your Price $549.00
Christmas Holy Family hand painted from Joseph's Studio......Read More
&nbspIN STOCK. Usually ships out in 24 hours.
Fixed shipping cost of $100.50 will be added to your order in 48 contiguous US states only.
The large Joseph's Studio Collection Holy Family Set by Roman Inc. is hand-sculpted by highly skilled artists who pay close attention to detail for an excellent and authentic finish. The attractive set is made of a stone and resin mixture that is suitable for indoor or outdoor use. The Holy Family makes a great start to any Nativity collection and additional pieces are also available, so you can start with the Holy Family and add a new piece each year until the set is complete.
The hand-painted figures are in 40-inch scale and are the perfect way to share the Christmas spirit with your community. The Christmas Nativity series is a Christmas Night Inc. exclusive. The beautiful three-piece set is designed and manufactured by Roman Inc., a well-known designer of religious figures.
Dimensions: Mary H 24.5" W 16" D 13.5"; Joseph H 38"; Jesus H 10.5" W 13" D 9.5"

Weight: Mary: 15 pounds; Joseph: 30 pounds; Jesus: 5 pounds

Resin-stone mixture
Indoor or outdoor use
Shipping weight: 67 pounds
Fixed shipping to 48 contiguous US states only
When setting product up outdoors make sure product is placed on a level surface and will not be blown over by the wind. In windy locations place a wood stake in the ground behind each standing figure and secure it to the figure with heavy fishing line or wire. Make sure product is not in standing water, or covered with snow as this will soften paint and cause paint to separate from product. At the end of the season bring product indoors. Make sure it is thoroughly dry before cleaning with a soft cloth or paper towel. For bird droppings or stubborn stains use a damp cloth. Do not use chemicals, soaps, detergents or hoses. Store in the original shipping cartons in a dry location.
GROUND SHIPPING OF PACKAGES AND SMALLER CARTONS
Our products are shipped either by ground courier such as FedEx or by truck.
The cost to ship your order by ground may be found in the shopping basket before entering your credit card.
Please put your order item(s) in the basket and click on the blue link titled "Calculate Shipping".
Enter your zip code in the box that appears and our website will calculate the FedEx Ground shipping cost, if your order can be shipped by ground.
If a message and not a cost appears, please call 888 900 2070 for complete shipping information.
FedEx Ground shipping takes from 1 to 6 days depending on your location in the US or Canada.





01/07/11
Dr. Sophia L. Kary
This set is absolutely beautiful! We purchased it as a gift for my father and he loved it. The quality it top notch. There are so many lovely details that make the figures life-like. We can't wait to purchase more to add to the set.





08/24/11
I. Corcovelos
Hi Don ,We really love how beautiful this Nativity set looks. We will try to email you a photo of our Christmas letter with them showcased for your ads if we rememberů.you may want to follow up with us in early December. Thank you so much! Iova





12/02/11
K. Rufus
I recently purchased a large outdoor Nativity set. It arrived quickly and in perfect condition. It is now sitting in our front yard and many neighbors have complimented us on how beautiful it is. Thank you so much. We will look to your company first for future purchases. Sincerely, Kathy Rufus





01/05/12
J. Ganter
Absolutely gorgeous! Just as pictured. Arrived in perfect shape due to your excellent packaging. Even Fed Ex couldn't damage it! Highly recommend this product.





01/19/12
L. Zettl
Exquisite. So very wonderfully crafted and painted that we couldn't bare to risk it outside. It will go in our living room window to best display the reason we celebrate Christmas. It far surpasses any other set available. Plus your price was the best. Thank You.





01/10/13
K. Tobia
Beautiful statues. They made a wonderful Christmas present for my wife. She was in awe when they arrived. Well packaged and overall very pleased with this product.





11/14/13
J. Durish
Christmas Night was an excellant company to purchase from. My wife and I have been wanting an outdoor nativity scene like this for years. Quality for price paid was more than expected. Had one small glitch but Don and Margaret were all over it. Look forward to completing the set. Will try to remember to send a pic this Christmas Season.





01/09/14
J. Gifford
They are absolutely beautiful! We shopped around for quite some time before deciding to make this purchase. The attention to detail and the quality of workmanship is equal to that of the much pricier sets that we considered buying. Based on previous experiences, I was somewhat concerned about the possibility of them being damaged during shipment. I expressed my concern to the company and they assured me that if anything was damaged that it would be replaced, no questions asked. Happily, they arrived in perfect condition, thanks to the way in which they were packaged. Too bad I can only give them a five star rating. They deserve a ten