Camel with Rug Outdoor - Fiberglass 54" scale (4 ft.H)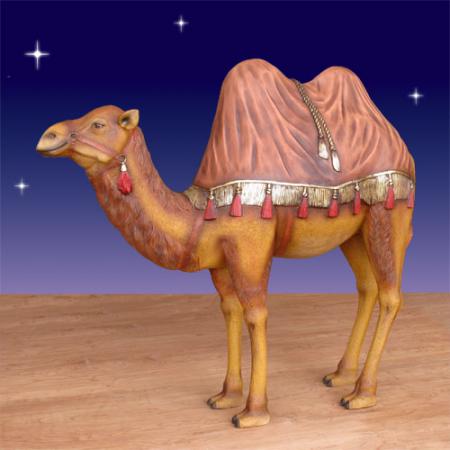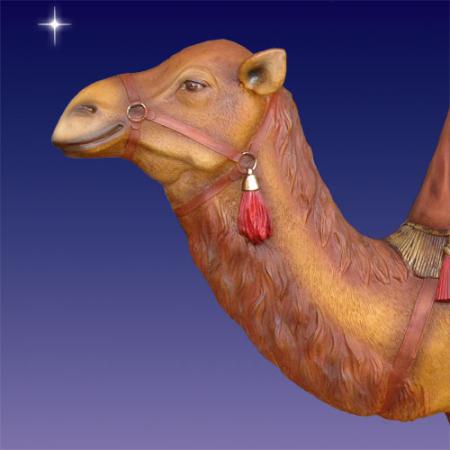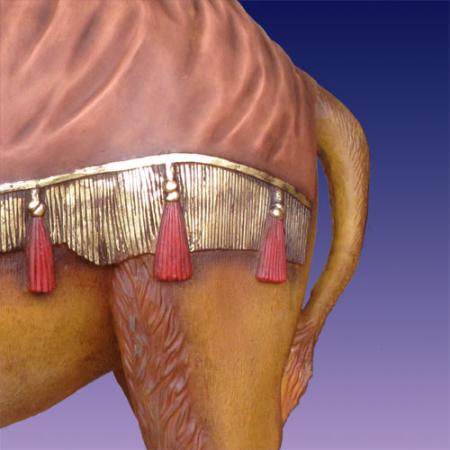 Item #43165
Add the Giant Camel to your Outdoor Nativity and share the celebration of Christmas with your community......Read More
&nbspIN STOCK. Usually ships out next business day.
Call 1 (888) 900-2070 for a shipping quote.
Add color and interest to a traditional Nativity display with a beautiful life size Camel with Rug. The large sculpture is part of the Christmas Night Nativity Collection of outdoor Nativity figures and animals. The camel is depicted with a beautiful rug on its back, typical of the type of animal that was probably used by the Magi as they traveled to Bethlehem to see the Infant Jesus.

The wonderful near life-size figure is constructed using durable fiberglass resin. The figure is designed by Christmas Night and is hand painted in rich colors, resulting in a camel statue that is lifelike, beautiful and suitable for any Nativity display. The rich details include individually painted hairs on the camel and beautiful tassels on the rug. The Camel with Rug is sized to complement a 54-inch scale Nativity display.
Dimensions: L 55" W 22" H 48"
Product weight: 50 pounds
Fiberglass construction
Indoor or outdoor use
Shipping weight: 129 pounds
Shipping dimensions: L 57" W 35" H 60"
Call 1 (888) 900-2070 for a shipping quote.
Make sure product is not in standing water, or covered with snow as this will soften paint and cause paint to separate from product. Clean figure with a damp cloth. A non abrasive surface cleaner such as Formula 409 glass can be used for stubborn spots or bird droppings. Store covered in a dry location. When setting up product make sure Camel is stable and will not be blown over by the wind. Remove the plugs from the base of the figure and add sand for extra stabilization.
TRUCK SHIPPING OF LARGE ITEMS
Many of our large outdoor Nativity Sets and outdoor decoration figures are too heavy and bulky for UPS or FedEx and must be delivered by truck. These items are shipped on wood pallets and are delivered by appointment. The average cost of this delivery service is 20 to 25% of the product cost in the Eastern US (except Florida at up to 30%) and 30 to 40% of the product cost for the US west coast and South Texas. Use these average percentages to estimate the landed cost of this item. These percentage shipping cost averages apply to residential delivery. Shipments to commercial locations with loading docks or fork lift equipment will be cheaper. Please note, churches, hospitals and military locations are considered congested and are classified as residential by the trucking companies.
Costs to deliver to Canada may be higher and will require the use of a customs broker and the payment of PST, GST and brokerage fees. Please call 888 900 2070 for details.
Shipments to Alaska, Hawaii and Puerto Rico will require special arrangements involving ships and must be specially quoted, as must shipments to foreign countries. Please call our Logistics Department at 888 900 2070 for details.
Truck shipping rates are greatly affected by the cost of oil as it impacts the cost of gasoline and diesel fuel used by the trucks. As a result, freight rates change weekly or even more often and should be verified before shipment.
When you call our Logistics Department at 888 900 2070 for a US shipping quote, please provide the item number, your name and zip code and a phone number where you can be sure to be reached during the day. We will try to provide you with a US truck shipping quote within 30 minutes during our working hours of 8:30 to 5:00 Eastern time, Monday through Friday.





10/24/11
N. Kahn
Dear Don; I would like to thank you for being so obliging and accomodating in working with me to make my dream of owning such a one of a kind quality nativity set a reality. I received my nativity set perfectly intact and on time, exactly just as you assured me I would. Although, I haven't been through all the boxes, those I did open are in perfect condition. As I did purchase on line, I had a pretty good idea of the quality of product I was purchasing, but, I have to tell you, once I opened the boxes and saw first hand the calibre of quality of the pieces, I was blown away! I am very pleased with this investment and I am sure we will enjoy this set for many many years to come. Having a background in sales myself, I recognize that the combination of true dedication to customer service and quality products is a rare find, however, you and your company are outstanding and excel in both these catagories. You have been an absolute pleasure to do business with and I wouldn't hesitate one second in recommending you and your company. Sincerely, Nannette Kahn Canada





12/24/16
Anonymous
It has been a pleasure working with this company for the recent purchase the church made for a nativity scene. They have been great in shipping it out on time and fixing a minor problem we had. I would recommend this company to anyone looking to purchase Christmas items for display.





01/06/17
Anonymous
When I purchased my nativity set 9-10 years ago, the camel was sold out. This year, I remembered in time to order the camel. I love it and it completes the set. Beautiful workmanship.