Artisan Holy Family Joseph's Studio 27.5 inch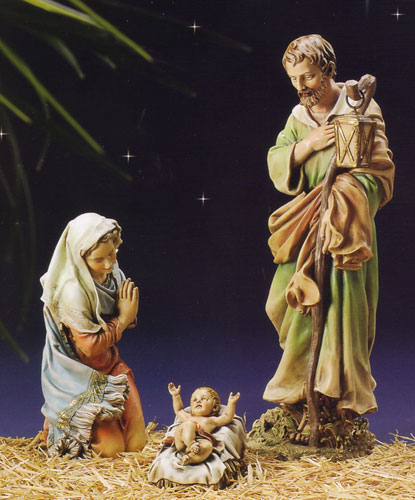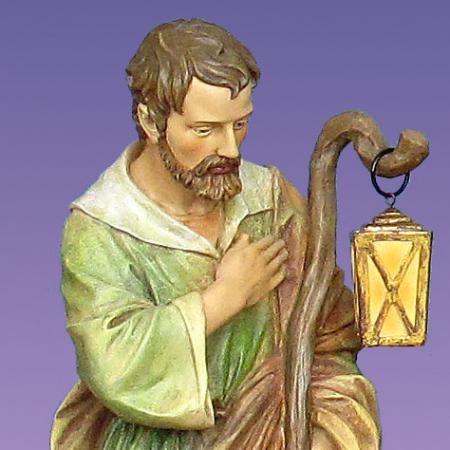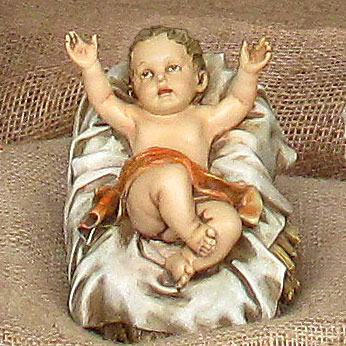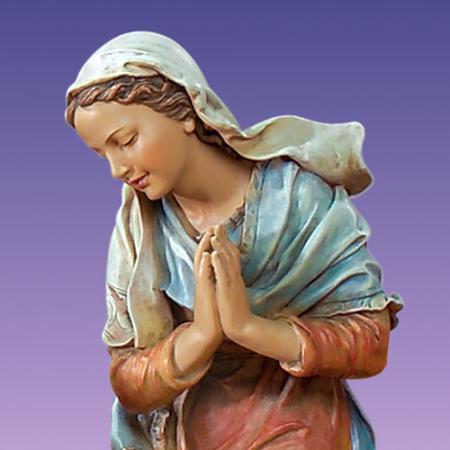 Item #59570
Artisan Nativity hand painted Holy Family set from Joseph's Studio......Read More
&nbspIN STOCK. Usually ships out next business day.
Artisan hand painted Nativity set from Joseph's Studio. Each piece is hand sculpted by highly skilled artists. The attention to detail is phenomenal. (For Outdoor use, see Product Care below)
Joseph's Studio Collection

Dimensions Tallest Figure 27.5"

Material Resin-stone mix

Indoor or Outdoor use (see Product Care for outdoor use)

Shipping weight 24 lbs
Ships in two boxes
When setting product up outdoors make sure product is placed on a level surface and will not be blown over by the wind. In windy locations place a wood stake in the ground behind each standing figure and secure it to the figure with heavy fishing line or wire. Make sure product is not in standing water, or covered with snow as this will soften paint and cause paint to separate from product. At the end of the season bring product indoors. Make sure it is thoroughly dry before cleaning with a soft cloth or paper towel. For bird droppings or stubborn stains use a damp cloth. Do not use chemicals, soaps, detergents or hoses. Store in the original shipping cartons in a dry location.
GROUND SHIPPING OF PACKAGES AND SMALLER CARTONS
Our products are shipped either by ground courier such as FedEx or by truck.
The cost to ship your order by ground may be found in the shopping basket before entering your credit card.
Please put your order item(s) in the basket and click on the blue link titled "Calculate Shipping".
Enter your zip code in the box that appears and our website will calculate the FedEx Ground shipping cost, if your order can be shipped by ground.
If a message and not a cost appears, please call 888 900 2070 for complete shipping information.
FedEx Ground shipping takes from 1 to 6 days depending on your location in the US or Canada.





01/03/08
J. Cymbor
This is the most beautiful Holy Family set I've ever laid eyes on! I love the faces of the figures, beautifully serene. And the coloring is just gorgeous. The golden highlights are a nice touch making the set really special. I wish I'd have ordered the entire set from the start. I'll definitely be adding pieces to my set.





01/14/08
J. Fantina
Thanks a million - it arrived and is wonderful.





01/20/09
R. Moschetta
Thank you for your large selection and excellent service. We receive our orders within a couple of days of placing the order! Everything always arrives in perfect condition and well packed. We look forward to adding to our outdoor Nativity next year. If you could let Roman/Joseph's Studio know that their shepherd is a little bit top heavy and tends to topple over when it is windy. This is a design flaw and has nothing to do with the quality of the piece. We plan on trying to insert a stake into the hole in the bottom of the base to anchor him next year. This is not a problem if he is on a wooden platform, but the set now extends to the lawn beyond the stable that our son built for us. I will try to send you some photos of our Nativity as it looked this year. We have received many favorable comments and compliments. We live on a well-traveled secondary residential street in our town, so many, many people see it as they drive/walk by!





01/22/09
D. Hayes
These three figures are beautiful and well made. They are sturdy and do not fall over. I had ordered other nativity figures (from another company) but they fell apart. This one is "a keeper". I will be back to add more figures to our nativity scene. Thanks.





11/30/10
S. Czerwinski
Great nativity set - very good quality.





12/02/10
C. Lenser
I am very pleased with my Nativity set with the exception of not being able to remove the baby Jesus from His cradle. I am impressed with the packaging of the statues to ensure that they would not be damaged in transit.





12/20/10
L. Reiter
All went fine. We ordered it and few days later arrived and they are amazing. Great product, think the price is fair and all is well.





12/28/10
J. Bates
I ordered this for friends in Norway and they were so pleased with the detail and design. It's a beautiful set with quality that far exceeds anything else I've seen in this price range.





12/27/12
D. Pugh
I think this is one of the most beautiful displays of the Holy Family I have ever seen. The colors are bold and the faces of the Blessed Mother and St. Joseph are so beautiful. I am so happy I purchased this for myself!!